The Metaverse is a divergent universe that will provide you with the diverse experiences you desire to have using your Avatar.
You can read about what the Metaverse is, and its basic ideas if you are new here. This will help paint you a clearer picture so you don't get lost as we proceed. But if you understand, please come with me.
In 2021, I attended an exhibition on Decentraland. This exhibition reinforced my belief that Interoperability, true Metaverse, and decentralization are possible.
Many users initially thought Decentraland was just this platform with expensive parcels of land and a bunch of Avatars wandering around. Well, it's not. Although, the navigation can be stressful if you are not a Gamer.
But an event like an exhibition, shows we are advancing towards a better experience. For true adoption to happen, people need to be exposed to the benefits of using the metaverse. And this should have nothing to do with Tokens, Cryptos, and other incentives attached as pseudo-marketing mechanics to drive adoption.
Most people ask.
Can There be a Metaverse Without a Token?
This is not to say that the token economy is not important. On the contrary, it is. But if Builders can look beyond that to create real solutions, then they wouldn't need to advertise so much for adoption to happen. I mean, I am talking about my experience without being paid a dime, or owning a Mana Token. And I will gladly attend another exhibition in the Metaverse if I'm invited.
Things like art exhibitions, music festivals, shows, cinemas, schools, E-commerce, fashion shows, social interactions, and many more experiences should be talked about more than the fluctuating token prices.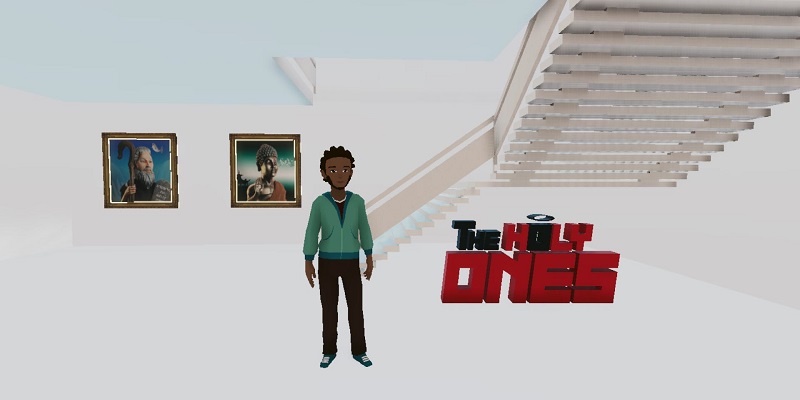 I know many people are building these solutions, but I think there is an industry fixation with tokens instead of products. This is Jack Dorsey's argument for his Web 5. The metaverse should be limitless but functional and it's not about tokens.
Oh, and for the exhibition, that was more like it. Pure substance, and pure experience, and I will want to do that again without being coerced to buy a token or NFT. It would also be good if builders explore other worlds with more functions than just gaming.
Can Experiencing Things in the Metaverse Feel Like Real Life?
As a creator, over the years, I have attended and participated in many art exhibitions locally. I have only witnessed or experienced exhibitions outside my environment through exhibition catalogues, and many times abridged YouTube videos from people who recorded relative versions of art shows.
The problem with these videos and catalogues, however, was that they had limitations in driving home the experience. It was never a complete experience. This is because I haven't been there to feel the environment, and interact with the pieces for relative time intervals to my satisfaction. Or feel the lighting or curatorial aura.
This is the first function of the Metaverse. To help you experience things that you are limited to experience in the physical world.
This Decentraland exhibition came close to the real thing. I know there should be improvements but I was impressed by the level of work, especially from those building products in the space.
I know many users in the space have attended Weddings, music concerts, and even birthday parties.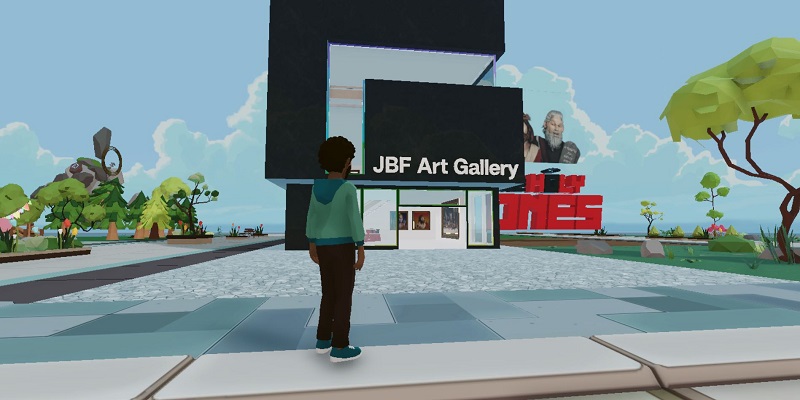 First I was impressed by the architecture of the JBF Art Gallery. A cubic story building with an inverted L as a glass. The impressive thing about this is that your avatar can look outside the glass from within the building, and see the outer environment. But the architecture was not the show. Let's not go into the details.
The show was titled "The Holy Ones", and had paintings of relative religious icons displayed on the walls of the gallery. The room was well lit and had Avatars coming in small numbers to view the show. It was interesting. Yes, I mentioned before, It was my first art exhibition on Decentraland.
I think, however, some wandered into the show looking to find their way around. Navigating here as I mentioned earlier, is not simple.
Important Features of Activities in the Decentraland's Metaverse.
My Avatar, as an artist, took time to go through the works and enjoy them. Since I have been exploring the lands, this was the most satisfying experience I had. I wondered how the works displayed could be bought or sold. Most of the works had the NOT FOR SALE tags on them.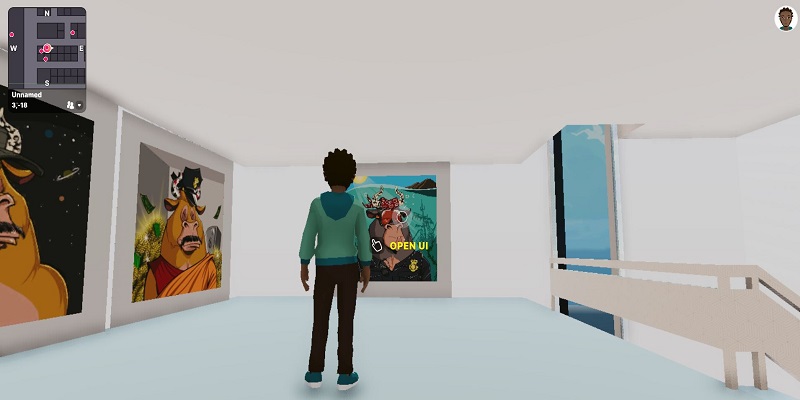 Another fascinating feature of the show was linking the artworks to Opensea. You can click on a piece of art and the details will pop up. Then you can see the price on Opensea and buy them if you wish. That's the simplest explanation of Interoperability- Interacting with different platforms without borders. Just you, your Avatar, and wherever or whichever protocol you wish to explore.
What this means is that Artists can approach these galleries and have their works exhibited. This can be either in the form of a curated group show or solo exhibition just as it happens in the physical world. There are many possibilities, but this is the closest encounter with my Avatar to a physical experience in the metaverse. Yes, there was no VR involved, but the experience wasn't nonetheless different from what I have experienced in the real world. I interacted with the pieces, and it felt good.
Sometimes when I listen to arguments that these experiences are not real, I simply disagree. I think we are coming to that threshold where the limits of Reality are shifting. I think the way we experience things will alter what we perceive as real.
There will be dangers definitely. But we are early in the development of the new internet. Call it web 3, the Metaverse, Web 5, and call it anything that will satisfy your understanding of the experience. But this is it, the reign of the Avatars had begun.